7 Wellness Minutes with Sophia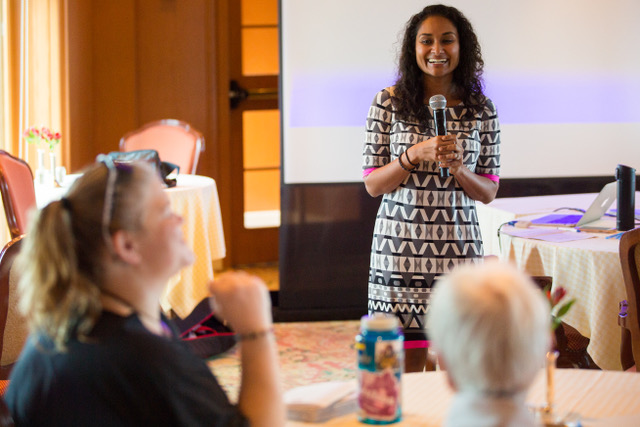 Meet our Speakers from the Wellness Mastermind Day Monday, June 24th in Miami!
Sophia Hyder Hock serves on the WE Advisory Board and is the Founder/ CEO of Papilia, a boutique cultural learning, and development firm which thrives on empowering people to unleash a greater understanding of diverse perspectives, leadership, and communication styles.
1) How did you get started in your current career path?
Yoga led me to my current career path as the Founder of Papilia, a diversity, and inclusion strategy development, and training firm. I was practicing yoga for a prolonged period of time as a way to cope with the passing of my Mother. After realizing the immeasurable benefits, I realized that I wanted to understand this practice with greater depth. I became a yoga instructor and yoga life coach to help people be their best self. As an international development professional, I also noticed a great need for communication and connection across cultural boundaries. The merging of my professional and personal expertise seemed like a natural step for Papilia because I believe people have to be self-aware of themselves and their surroundings first before understanding diverse perspectives and how to be inclusive.
2) Where do you see the wellness industry heading in the future?
I foresee the wellness industry focusing on more self-care/mental wellness/digital detox initiatives and seeking out new destinations in emerging countries that aim to invest in wellness.
3) What is the biggest challenge that you think we face today in wellness?
Inclusivity is a big challenge in the wellness industry. We need to think about diversity and inclusion from two perspectives. The first is thinking about how to attract a wide array of travel groups that are not typically included in marketing strategies. The second is providing internal staff with the knowledge and skill sets to connect with a diverse clientele to make the guest experience exceptional, sustainable, and memorable.
4) Is there a practice that you recommend for staying on track to achieve your goals?
Meditation has helped me stay grounded, true to myself, and to gain valuable perspective on my goals and decision-making process. I highly recommend finding a self-care routine (even if it is for five minutes) that works for you.
5) What podcasts, books, magazines, events or courses do you utilize to develop professionally?
Magazines: Yoga Journal
Books: The Untethered Soul, The Desire Map, Excuses Be Gone!, Designing Your Life, The Field Guide to Human Centered Design
Podcasts: The Wellness Mama, Hurdle, Well Now's
Other Outlets: The Headspace App, Insight Timer App, MindBodyGreen
6) How do you balance work and life? What is your favorite self-care practice?
Before anyone wakes up in my household, I set my goals and intentions for the day, and I prioritize work that is time sensitive. Life is a little more complex with a young child, however, I have managed to become more efficient with how I plan my day. My favorite self-care practice is making time for daily meditation and mantra setting, coupled with yoga and a healthy dose of cardio at least four times a week.
7) Who have your role models been and what have you learned from them?
My Mom is my first and foremost role model. She taught me to be resilient and compassionate through life's toughest challenges. My Dad taught me to have an entrepreneurial mindset and piqued my curiosity to travel the world. My other role models are people who inspire or remind me to stay authentic and to be open to possibilities that I may not have considered.