Oakworks Medical releases Bed to support needs during COVID-19 pandemic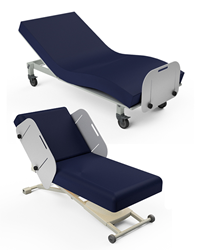 NEW FREEDOM, Pa. (PRWEB) April 13, 2020
Oakworks Medical, a leading manufacturer of Ultrasound, C-arm, and exam tables, announces today that is has developed low-cost emergency field beds to aid healthcare providers fight the COVID-19 pandemic.
These American Made beds, built in our Pennsylvania factory, are designed to be used in field hospitals and other overflow facilities. There are two models; one is manual and one is electric.
"We have moved very quickly to develop these beds, focusing all of our engineering capacity to get production up to speed quickly. I am very proud of our team developing the capacity to build 1,000 a week so quickly. Having the products FDA listed was very important to us as we know that our front line caregivers have enough to worry about already", said Jeff Riach, CEO of Oakworks Medical.
The manual bed features a 500 lb. patient capacity, full 6" thick mattress, backrest with up to 60 degrees inclination, and 5" wheels for easy movement. The powered model has electric height adjustments, powered 0-90 degree backrest, and a 6" mattress. Both products are being built to stock for quick shipment.
About Oakworks Medical:
Since 1978, Oakworks Medical has been committed to providing safe, durable, and ergonomic equipment to industries supporting the health and well-being of people all over the world. Oakworks mission and vision is to be the manufacturer that truly encompasses the equipment needs of all the professions within Integrative Healthcare and their clients. We are a leading supplier of Ultrasound tables, radiolucent C-arm tables and general exam room equipment. With over forty years design and manufacturing experience and a 91,000 square foot state of the art facility located in Southern Pennsylvania, Oakworks Medical is known for design innovation, sophisticated engineering, and quick turnaround time. Offering a unique commitment to U.S. manufacturing and environmental wellness, Oakworks Medical is setting the global standard for Integrative Healthcare product solutions. For more information, visit http://www.oakworks.com