7 Wellness Minutes with Trisha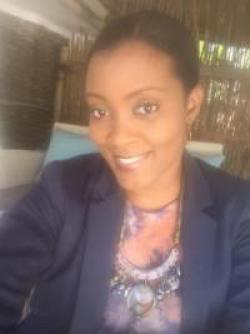 Tricia Greenaway, Founder, and CEO of Wellness Footprints Antigua, a company that offers Independent Spa contractual services to Resort Spas in Antigua, and educational training regionally. She is currently the Spa Director of Galleybay Resort and Spa.
Tricia is a licensed cosmetologist, aesthetician, and massage therapist for the past 21 years. She gained such discipline in the state of New York and advanced at the DCU University of Cosmetology in North Carolina, USA. Ms. Greenaway went on to advance her career where she dived into a Spa Directorship role. Such skills were gained through traveling to British Columbia Canada, Costa Rica and Jakarta, Indonesia where she successfully became certified Organic Therapy and Asian modalities. Being born in beautiful Antigua, Ms. Greenaway heads the Antigua and Barbuda Beauty Spa and Wellness Association and serves as Vice President of the Caribbean Spa and Wellness Association.
How did you get started in your current career path?
Some 22 years ago I started my journey as a beauty therapist and hair stylist in the state of New York. I quickly got island fever and returned home to endless opportunities. Using my gifts, I was able to expand rapidly in the spa and wellness industry, opening and managing many different spas and along the way I gained numerous certificates and diplomas. I am now certified in many different wellness disciplines and a certified Spa Director/ Manager.
Where do you see the wellness industry heading in the future?
The wellness industry is quickly becoming the blueprint for life. It's sustainable, not only for the environment but for mankind.
What is the biggest challenge that you think we face today in wellness?
We need to find a balance between medical wellness and wholistic wellness. Wholistic wellness should be something that is more referable by medical professionals.
Is there a practice that you recommend for staying on track to achieve your goals?
Continuing education and staying abreast of the trends, through research and networking.
What podcasts, books, magazines, events or courses do you utilize to develop professionally?
Caribbean WE Wellness conferences and trade shows, Spatec conference and trade shows, as well as any advance training and certification in my field. I'm currently pursuing the study of oncology esthetics.
How do you balance work and life? What is your favorite selfcare practice?
I work hard and play harder. I love taking care of the biggest organ of the body, my skin. I do referrals and consultations from experience. As such, I'm able to present my best self to clients.
Who have your role models been and what have you learned from them?
I admire quite a number of persons for their drive and tenacity, namely Stephenie Rest. She has been one of the main driving force for the advancement of wellness throughout the Caribbean. However, my role model is Mr. Nicolay Kreidler. He nurtured my capabilities and advised me along the right path into the industry. From these two, I've learned that through persistence, perseverance, and continued advancement, there are no limitations to what one can achieve.