GWD Caribbean Challenge
On Monday January 30th, 2017, Caribbean Wellness & Education (WE) travelled to Nassau's Pompey Square with an empty banner (pictured below) and a dream to unite the Caribbean through Global Wellness Day (GWD). GWD is a day of awareness and celebration to promote a lifestyle that focuses on wellbeing. 2017 will mark the 6th annual GWD, observed on the 2nd Saturday in June, (June 10th, 2017). Last year 90 countries around the world said YES to GWD. WE had a mission prior to arriving to Caribbean Hotel and Tourism Association's Marketplace (CHTA), where WE was a platinum sponsor and created the 1st ever Wellness Zone on the tradeshow floor, to make the Caribbean the largest region in the to support GWD in 2017.
So when WE set out that Monday to Pompey Square, WE had a vision that if we made a loud enough noise the Bahamas Ministry of Tourism would join us in the celebration, distinguishing the Bahamas as the leader of the region in wellness. Igniting other countries at CHTA's Marketplace to join their commitment and place their countries flag to say YES to GWD! 🇧🇸
The 1st ever FREE from WE wellness day in the square was professional filmed produced Debra K of Journey into Wellbeing and the segment will be launching later this year on syndicated TV. On the day, WE had music pumping in the square, hula-hoops for the children, local fruits and vegetables provided by the Department of Agriculture, and Health Screens by the Ministry of Tourism. WE will return to the Bahamas on June 10, 2017, to celebrate the official Global Wellness Day and launch the 1st in a series of consumer fusion wellness weeks throughout the islands with Wellness Week Bahamas.
WE believe by having a countries leadership say YES to GWD it gives leaders an opportunity to show true commitment to their citizens' wellbeing and health. WE know with the growing wellness economy by making a big proclamation in wellness for your country, this will in turn translate to financial reward. Growing the market share of wellness, volunteerism, and experience seeking travelers to your destination, one of the largest growing categories of travelers in the market, thus capitalizing on the $3.7 trillion dollar growing wellness economy.
Gratitude is extended to the 17 country representatives who came and placed their flag and said YES to GWD at CHTA's Marketplace; Dominican Republic, Anguilla, St. Lucia, Jamaica, Turks and Caicos Islands, Antigua, Bermuda, Barbados, USVI, Aruba, British Virgin Islands, St. Maarten, St. Kitts & Nevis, Belize & Puerto Rico.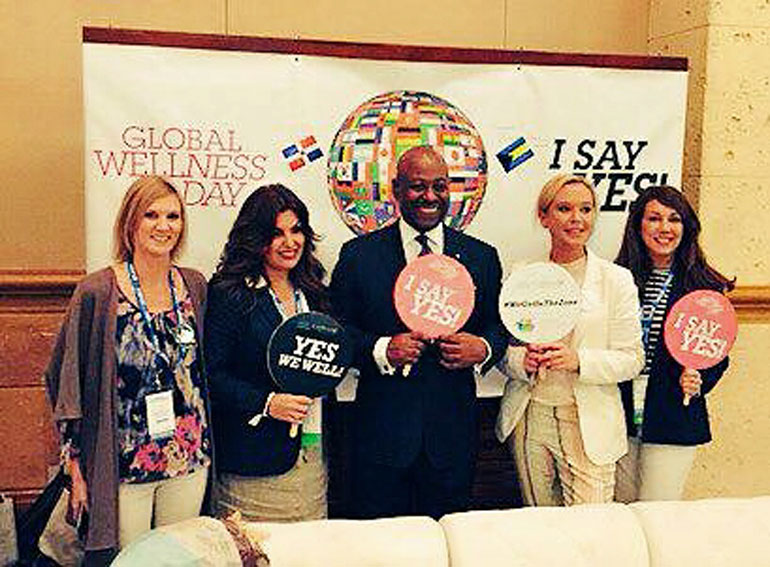 WE are challenging Bonaire, CHATA - Curaçao, Cuba, Martinique, Island Government of Saba, St. Eustatius Tourism, Dominica, Discover St. Vincent, St Martin - French Caribbean, Guadeloupe, St. and any other countries in the region, to join us by Friday, February 10th , to be part of our mission and press-release to the media! Inciting a full Global Wellness Day Activation for the Caribbean at CHTA's Marketplace.
Will you join us and say… #YesWeWell