The Road Ahead, Walking the Path Toward a Meaningful Spa Career
By Stephanie Rest, Originally Posted in the ISPA Magazine Pulse, October 2016
When it comes to building a professional spa career, there's hardly one path to take. Some start as an intern or work as a front desk receptionist before rising through the ranks. Others carve their spa career path working as a therapist before becoming a spa director, respected educator or starting a a spa business. It is inspiring to hear different stories as to how spa professionals started in the industry and the way the persevered to grow into the roles the now play.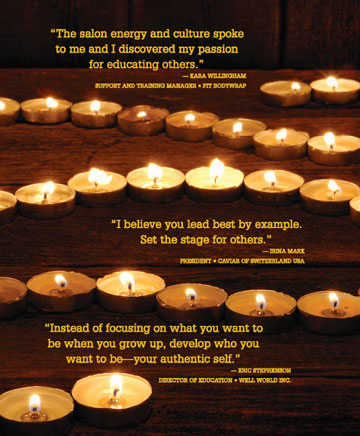 Why has it become more important to tell these stories? It has become valuable because there is a need to inspire future leaders to take on a career in spa so that the industry can meet the growing demands of skilled spa professionals as more and more people seek to live healthier lifestyles.
In fact, according to the 2016 ISPA U.S. Spa Industry Study, the spa industry is in higher demand than ever with spa visits reaching 179 million (up at 2.1 percent in 2015). Modern-day society is no longer seeking to fix health. Instead, people are looking to balance a well life. The pendulum has shifted in the industry from awareness about what we do, to who we need to facilitate our services and why young people should choose a career in spa. The Global Wellness Institute predicted the need for spa employees will double by the year 2018. How will we meet this demand? In contrast to the rising numbers of spa visits, research from the Entry Level Association Projection for massage therapy education indicated that 40 to 50 percent of massage school graduates exit the field within 24 months after graduation. In addition, according to the Associated Bodywork and Massage Professionals reports, massage school enrollments have been on a steady decline, dropping at 18.8 percent in 2011 through 2013 since its historical peak in 2005.
To read the entire article please Click Here and go to page 47.